J&J Stone is a leading producer of quality, affordable, Grade "A" natural building, landscaping, and architectural stone.
Our quarries produce over 60 colors of stone, ranging from warm whites, creams, and tans to cool blues, grays, and greens. We always have a great selection of Limestone, Sandstone, Lueders, Oklahoma, Driftwood, Mocha, and Moss stone choices on the ground and ready for immediate delivery.
Whether it is the sparkle of our Rattler Natural Chopped or the dramatic and unique colors featured in our Mountain Flagstone, your distinctive designs begin here.
OUR OPERATIONS DURING CORONAVIRUS/COVID-19
As cases continue to rise in Texas, please remember that Governor Greg Abbott mandates that every Texan is required to wear a mask when outside their home. J&J Stone continues to practice safe social-distancing at our quarries and while on job sites, and wear masks to help protect our customers, employees, and vendors from transmitting the virus. We thank our customers for sharing our concerns during this difficult time.
Not sure what stone would be right for your project? Use our custom Stone Selector to find the perfect stone to make your project unique.
View our ideas for your next Landscaping, Pool, or Excavation project. Everything from pool coping, to stone decking, landscaping and retaining boulders, to decorative stone.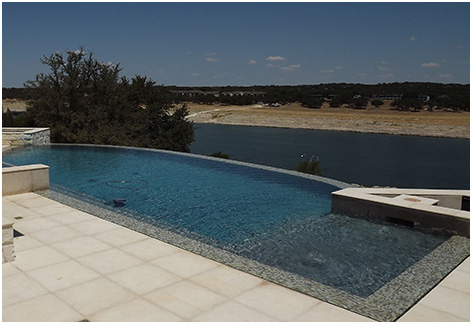 Choose from our selection of limestone or sandstone balustrade, column, door or window surround designs to really make a memorable statement with your commercial or residential design.
Terra Blend cement is the professional mason's choice for top-flight masonry work. See our available selection of quality masonry cements and colors.